Innovation and research
A worldwide network
To be close to growers' needs
Vilmorin-Mikado selects, produces and markets high-performance vegetables throughout the world. With more than 50 locations worldwide, our breeding teams conduct selection and experimentation to respond to the expectations of the whole chain, from producers to consumers. With a particular focus on innovative and resistant products, we dedicate 16% of our turnover to research within our 3 research centers and 45 Research & Development experimental centers.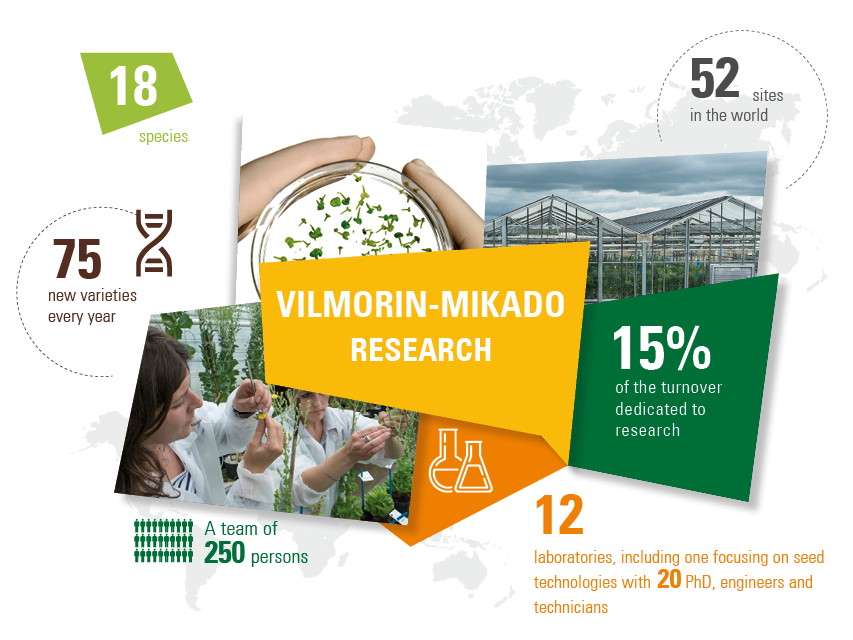 A wide range of species
Vilmorin-Mikado offers a wide, unique and original high-quality range to all professionals in the vegetable industry.
We select a wide range of species for all professionals of the sector. Each year, our teams offers more than 75 new varieties on the market on core species like carrot, lettuce, tomatoes, pepper, bunching onions, kabocha and daikon radish. A constant analysis of market requirements and methodic definition of research programs allows us to meet future challenges of producers. All our research programs are closely monitored by our quality control processes.

Research in USA
Vilmorin-Mikado started carrot research breeding activities in California in ­­­­2007 at one ranch facility in Hollister California. With the acquisition of Shamrock Seed Company and GeneFresh technologies in 2013, the research operations have expanded into Gilroy and Salinas California. The team, consisting of over 20 breeders and operational staff, focus their efforts on developing new varieties of Lettuce, Cauliflower, and Salad Greens for the local market. Using a combination of field and greenhouse facilities, the research team effectively executes multiple breeding programs.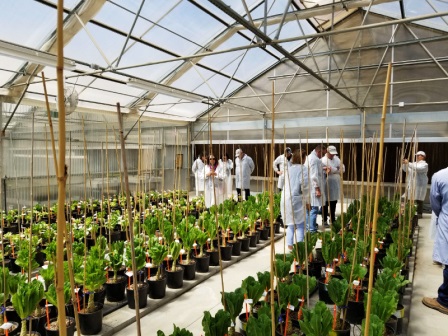 Activities in the field include breeding selection, T1-T3 evaluation trials, isolation seed increases, and developmental and commercial showcase trials. Greenhouse activities include single and group seed increases, seedling nurseries, hand pollinations for designated crosses, and seed cleaning of harvested seed lots. The research team works in cooperation with the product development team and sales team to conduct showcase trials to exhibit new varieties to local dealers and seed distributers.
Vilmorin-Mikado USA research also assists with small scale seed production and counter cycle production of seeds to assist breeding programs in France, Japan, and Mexico. These crops can consist of Broccoli, Carrot, Pepper, and Tomato.