Vilmorin-Mikado
VILMORIN-MIKADO, A NEW GLOBAL DIMENSION!
Vilmorin is a brand of Vilmorin-Mikado
Vilmorin-Mikado, a Business Unit of Limagrain, brings together the activities of Vilmorin (French seed company) and Mikado Kyowa Seed (Japanese seed company). Vilmorin-Mikado is a global seed company that has strong bases spread over five continents; it offers a wide, unique and original high-quality range to all professionals in the vegetable industry. The Vilmorin-Mikado team expresses a strong commitment to customer-service and a passion for vegetables.
Strengthened by their diversity and entrepreneurial spirit, they uphold our values of audacity, accessibility and excellence. From Vilmorin-Mikado, expect quality seeds of the tastiest products for your markets.
Everywhere, closer to you.
Vilmorin-Mikado, a Limagrain Business Unit
Vilmorin-Mikado is part of Limagrain, an agricultural cooperative held by French farmers and an international seed group. Limagrain is laser-focused on a single mission: working cooperatively to advance agriculture everywhere, for everyone. Concentrating on the genetic progress of plants, Limagrain selects, produces and sells field seeds, vegetable seeds and cereal products.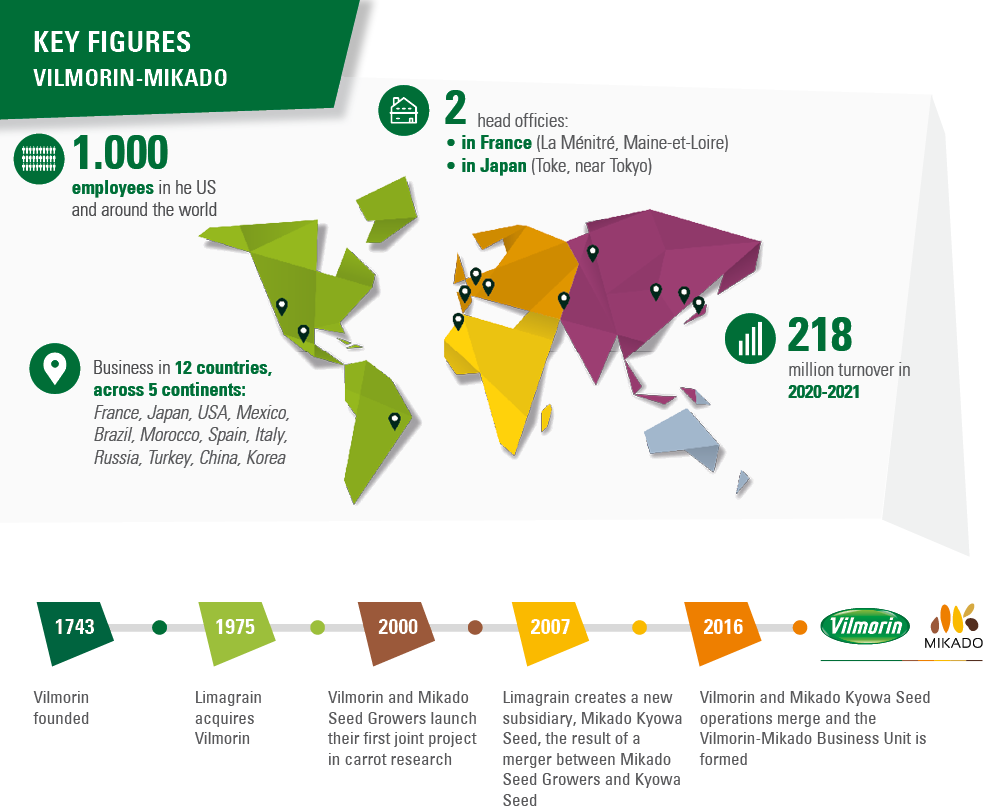 Vilmorin North America
With the vocation to become a global seed company, the French-Japanese company Vilmorin-Mikado started its activity on the North American market in 1980, bringing the best of their products to the American and Canadian growers.
To increase their presence in this important market, Vilmorin-Mikado decided to invest in some well-known, successful local leafy companies, and became Vilmorin North America subsidiary. This local breeding approach is already paying off with many leafy varieties adapted to the various local conditions .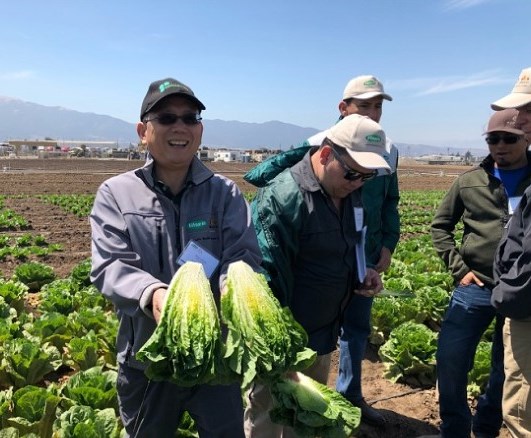 The operational merge between Vilmorin and Mikado Kyowa Seed created even more opportunities. This collaboration brought in different genetics and thus completed the product range.
With also the distribution of the Harris Morran brassicas in the main areas, Vilmorin North America is now one of the major players and attractive partner for the customers in the whole vegetable industry and for many different crops.
Vilmorin Northa America offers a local approach with locally adapted varieties by a real global company bringing the best from all over the world!