Q&A Session with our Lettuce Breeder Dr. Peng
21/06/2023
Inside the Mind of a Lettuce Breeder
It's no secret that Dr. Yaojin Peng eats a lot of lettuce.
Having spent 26 years breeding lettuce, Peng knows what he's looking for, and when he's testing a new crop, he can't help but cut into a head of lettuce and see what he's created.
"I taste a lot of lettuce," he says. "Sometimes, it's bitter, and I know we have some work to do, and sometimes it's sweeter, and I know we're on the right track."
But lettuce breeding is a lot more than just taste. It's a science and an art that requires a tremendous amount of patience, Peng says.
And, as a grower, knowing where your lettuce comes from can save you time, money, and give you a more harvestable and better tasting variety.
The Breeding Process
Breeding lettuce requires tremendous patience.
It typically takes five to six generations to accomplish the homozygosity before you can have a pure line to start a large-scale trial in a commercial field, Peng explains. If one generation takes one year, that's five to six years of time, plus an additional one to two years to see how it performs in a commission trial before commercializing it.
Maintaining a close relationship between growers and breeding companies is essential during this process because it ensures breeders know what growers are looking for so they can take early actions and focus on those issues. By the time you have a lettuce variety that can be purchased, nine to 10 years have passed.
Peng has found ways to help speed up this process by using different growing regions to get two generations done in one year's time.
"The breeder always has a job to do," Peng says. "It's a long-term commitment, and you have to be flexible."
Building Resistance
There are a few certainties with growing lettuce. Unfortunately, the plant draws many insects.
Lettuce also suffers from diseases like powdery mildew and downy mildew.
Therefore, the goal of the lettuce breeder is to create varieties that are more resistant to these lettuce invaders. Peng spends much of his time focusing on breeding lettuce varieties with multi-resistances to diseases and pests, improved shelf life, and adaptability to a wide range of weather conditions.
Peng uses a process that combines conventional methodologies and new technologies to create an ideal lettuce variety. Breeding is a long process, and the conventional methods are still valuable, but new technologies make the process more efficient, Peng says. "For example, molecular markers are applied in the process," he explains. "The application of molecular markers is one of the keys to the success of my lettuce breeding programs as I am able to directly look at the plants at the genotype level in addition to the phenotype level."
Other news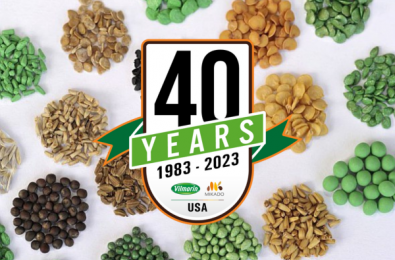 Vilmorin-Mikado celebrates 40 years of presence in the United States, we offer you a retrospective of the last 40 years.  The story begins in 1983…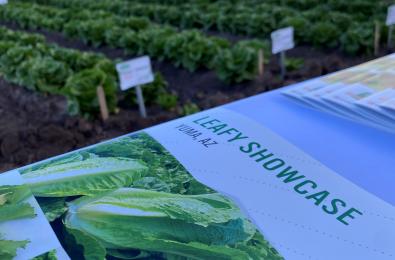 From February 21 to 23, Vilmorin-Mikado USA organized its second edition of the Yuma Field Day in Arizona. This biannual event allow us to…